LIMPET
Math Braille / Voice Output in HTML

LIMPET is a compact and easy-to-use JavaScript tool making mathematical expressions accessible for blind users.
History of Limpet
We started to develop the tool in the end of the year 2013 as we registered an interest of four blind students to study the course Introduction to Logic run by Faculty of Informatics of Masaryk University. The course students are periodically tested by means of electronical questionnaires which include many mathematical expressions displayed as images. The questions are randomly selected and generated from large question sets (dozens of questions per one set) that are prepared by teachers of the course and stored in a database granted by Masaryk University Information System. See the example of some questionnaire below.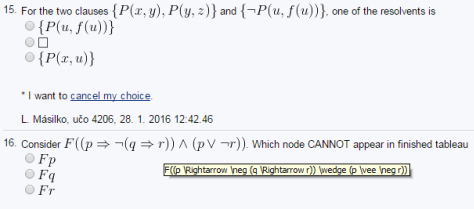 Image 1: Part of an IS MU questionnaire with mathematical expressions - the image displayed in the question 16 is representing the logical formula and has an alternate text writen in plain TeX - source code for rendering images.
Limpet was created to enable blind students to transform these LaTeX alternate descriptions into haptic and speech output readable by refreshable braille displays and screenreaders.
Later on we continued to develop the tool to be usable for any web site including mathematical expressions. There are only two conditions any web page should meet: Formulas are displayed as images with TeX alternate description.
Main Features of Limpet
Expressions in plain TeX format are transformed to haptic (Braille) and speech output. The Czech and (british) English versions are ready to use, any other language is easy to add.
Limpet can be attached to any web page containing mathematical expressions in proper format.
Source page can be generated from MS Word document which includes mathematical expressions writen in plain TeX.
The Czech version of Limpet was created thanks to the support of Ministry of Education, Youth and Sports of the Czech Republic within the project CZ.1.07/2.2.00/28.0209 Elektronické opory a e-learning pro obory výpočtového a konstrukčního charakteru included in the Operational Programme Education for Competitiveness – 2.2 Higher education.